Rose Falooda Cake Recipe – BBC Food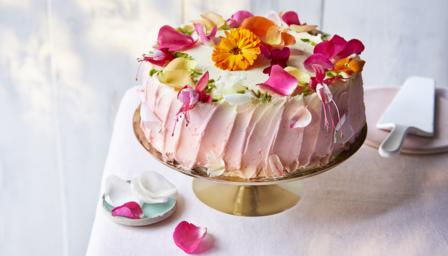 To make the sponge cakes, preheat the oven to 180C/160C Hot Fan/Gas 4. Lightly grease the sides of two 20cm/8in cake tins with butter and line the bottoms with parchment paper. Heat the milk, then add the saffron strands and leave to infuse and cool to room temperature.
Cream the butter and sugar together in a large bowl, whisking until very light and fluffy. In another bowl, combine the flour, cornstarch, baking powder and salt.
One at a time, add an egg with a tablespoon of the butter-sugar flour mixture, mixing well between each addition. Scrape down the sides and gently but gradually stir in the rest of the flour mixture, followed by the saffron milk and vanilla.
Divide the cake batter evenly between the two lined pans and smooth the tops. Bake for 20 to 25 minutes or until the top is golden brown and a toothpick inserted in the center of the cakes comes out clean. Remove from the oven and let cool for 10 minutes on a wire rack before unmolding, remove the baking paper and let cool completely.
To make the glaze, in a small bowl, soak the basil seeds in cold water for 15 minutes then drain them through a sieve.
In a medium bowl, beat the cream and icing sugar together until thickened, then stir in the mascarpone until smooth. Reserve 4 tbsp in a small bowl and divide the rest into two bowls, one with a bit more than the other. In the bowl with a little less crease in the basil seeds and 3 tablespoons rose syrup. Leave the large bowl plain and in the small bowl with 4 tablespoons of the mixture, add 1 tablespoon of rose syrup. Put everything in the fridge to firm up for 20 minutes.
To make the falooda, cook the noodles in boiling water for 1 minute then drain and cool under cold running water. Leave to dry before mixing with the rose syrup.
To assemble, use a pastry brush to brush 1 tablespoon rose syrup onto the flat side of each sponge, then place one sponge syrup side up on a serving platter. Spread the basil and rose seed cream over most of the cream then, using a piping bag with a wide plain tip, pipe the rest of the cream all around (to create a wall that will hold all the filling in place). Add the vermicelli mixture, rose petal jelly, chopped candied fruit and almonds in the center, then place the second cookie on top, syrup side down.
Generously frost the top and sides with the bowl of regular cream, then use the smaller bowl of pink frosting to create decorative pink streaks down the sides. Chill in the fridge for about 1 hour to firm up. Cover with edible flowers or rose petals, flaked pistachios and gold leaf, if desired.