The Baking Notification Project wants to send you a Cake SMS | Bites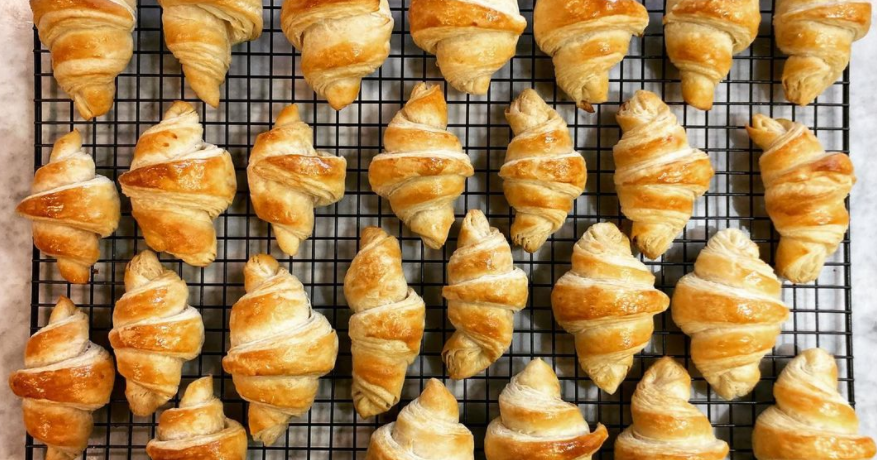 If there's one thing we've learned from the great sourdough baking experience of 2020, it's that you need friends and family who are willing and able to eat all those carbs you make. Jessica and Brandon Morrison got started The cooking notification project to solve this specific problem.
In the summer of 2021, Jessica was taking a break from her work as a journalist and chemist. She cooked a lot, but she, Brandon and their toddler couldn't eat as much as she wanted. (Fun fact: At 17 months old, Henry can say "cookie," "cake" and "pie," but generally calls everything Jessica bakes "more!")
"The pastries were starting to pile up," she recalls. "I was texting my friends and neighbors to try and give what I was cooking, but it was always a bit hit and miss. I pitched the idea of ​​an automated, opt-in messaging platform to Brandon, a software engineer, and we prototyped BNP in a weekend.
After a few months of testing with their neighbors in East Nashville, in October 2021, they launched the Cooking notification draft, a text-centric system that allows amateur and amateur bakers to connect with their neighbors to share baked goods. Subscribers pay a monthly fee (around $ 10 per month) to receive notifications when the baker of their choice has baked goods to share. Each baker explains how often he cooks, what his specialties are, and where and when subscribers can pick up their carbs. Subscribers claim the articles they want at no additional cost. When all gifts are claimed, this series of notifications ends. Bakers choose the amount they charge and all subscription fees go to the baker. In exchange, the baker pays BNP a monthly fee.
Morrison has no formal pastry training, but his background as a chemist and love of A good pastry, a cookbook written by a chemical engineer, clicked for it. She started making croissants and other pastries.
This month, The Baking Notification Project introduced their first test baker (besides Jessica), Alexandra payne. Payne cooked and sold at the East Nashville Farmers Market. She decided that baking was her passion and her therapy, but not her way of making a living.
"I have continued to cook for years, but it's hard to be motivated to do so when there is only a limited number of family members you can cook for, a limited number of pastries. that freeze well and a limited number of recipes that are easily halved or quartered. ," she says.
She therefore joined BNP to prepare the sandwich cookies, whoopies and pastries for the breakfast that she loves, and to be able to allow herself to experiment with new ingredients and new techniques. Payne recently moved to Madison and is also hoping BNP will put her in touch with her new neighbors.
Morrison was clear with would-be bakers "that being an early tester on the platform requires a great tolerance for experimentation, tech hiccups, and light chaos. We're a small team and we're building BNP while elevating a toddler and juggling other work. [Payne] has professional experience, and she was ready to go right away.
BNP participating bakers are hobbyists and agree to follow Tennessee's rules for home bakers selling food to the public, such as labeling requirements and restrictions on certain food preparations.