Vegan Battenberg Cake | VegNews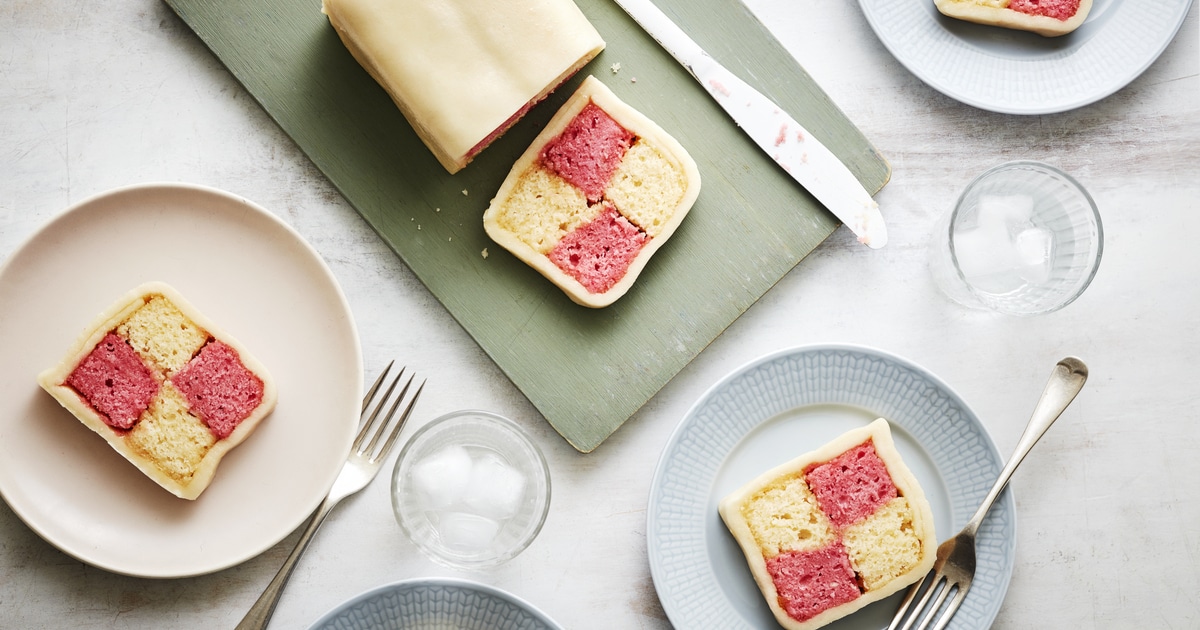 This light sponge cake of The Great British Vegan cookbook pairs easily with sweet marmalade and makes for an impressive, Instagram-ready dessert.
What do you need:
½ cup vegan butter
1 cup of sugar
½ cup unsweetened soy yogurt
⅔ cup unsweetened vegan milk
2 teaspoons apple cider vinegar
1 teaspoon of almond extract
2 cups self-rising flour
½ teaspoon baking powder
Vegan pink food coloring or beetroot juice
3 tablespoons marmalade
14 ounces vegan marzipan
½ cup powdered sugar, for dusting
What are you doing:
Preheat the oven to 350 degrees. Use a double layer of aluminum foil to divide an 8-inch square cake pan in half. Line both sections with parchment paper.
In a medium bowl, whisk together butter and sugar until light and fluffy. Stir in yogurt, milk, vinegar and almond extract. Add flour and baking powder.
Pour half the batter into a divided half of the pan. Mix drops of food coloring or beet juice into the remaining half of the batter until the desired shade of pink is achieved. Then pour the pink batter into the other half of the mold.
Bake for 25 minutes until a toothpick comes out clean. Cool for five minutes in the pan before inverting onto a wire rack to cool completely.
To decorate, carefully transfer the cakes to a cutting board and cut them in half lengthwise, trimming the edges to create straight, even layers.
In a small saucepan over low heat, heat the marmalade until thin. Brush one long side of the pink cake strip and one side of the yellow cake with marmalade and stick them together. Repeat to glue the remaining two strips together. Spread the marmalade on one pair of slices and place the other pair on top, with the pink on the yellow and vice versa to create a checkerboard pattern.
Dust a work surface with a little powdered sugar and roll out the marzipan into a rectangle about 8 x 10 inches. Brush the outside of the cake with marmalade. Use a rolling pin to lift the marzipan over the cake and smooth it firmly across the top and sides, joining it underneath. Trim the excess and brush the seam with a little marmalade. Finish by pressing the edges together to create a bottom seam.
Get FREE vegan recipes delivered to your inbox by joining our award-winning VegNews recipe club.
Register
Get FREE vegan recipes delivered to your inbox by joining our award-winning VegNews recipe club.
Register