The rustic rice cake of Nghe An province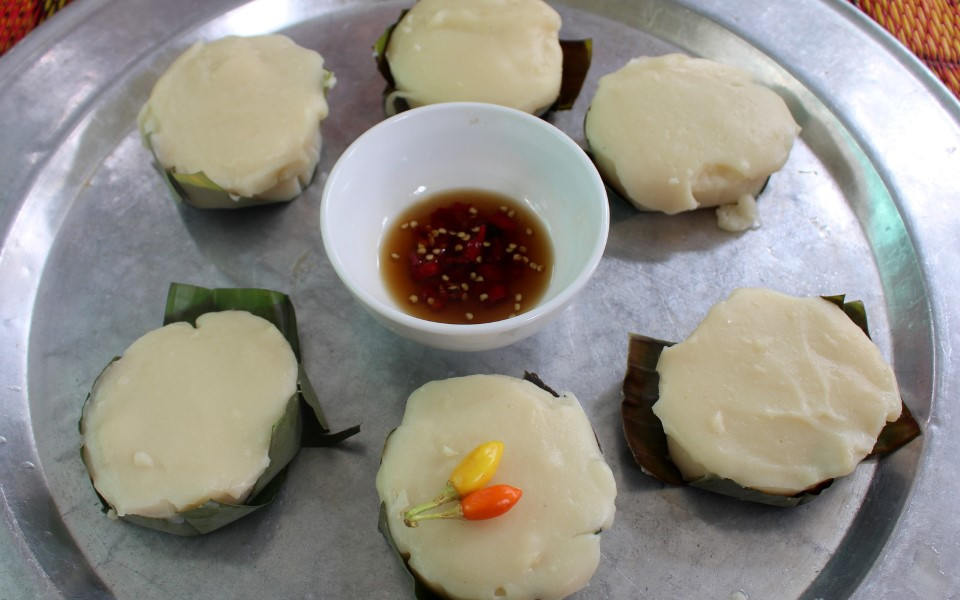 To make banh duc, the cook must make molds, grind, cook and stir the dough, and then mold the cake. So, molds made from plastic pipes and covered with banana leaves are the best for baking cakes well, with a nice color.
To make a delicious plain rice cake, the cook should choose a standard rice, which is Khang Dan rice. Each kilogram of rice can bake 20-25 cakes and each cake is priced at 2,000 VND in Sa Nam market.
The rice will be ground into flour and then mixed with boiled dilute lime water. The mixture is constantly stirred while hot until the cake is evenly baked. The pan is immediately removed from the heat and the cake is poured into molds while still hot.
A delicious plain rice cake is best characterized by its jelly-like shape, bright white color, moist and mild flavor and characteristic aroma. Sa Nam banh duc is usually served with Nam Dan soy sauce or shrimp paste, sautéed mussels and crab paste.
Although there are many fancy cakes that can be offered, the rustic plain rice cake from Sa Nam market is still preferred by customers due to its unique flavor. Therefore, the makers of banh duc in Nghe An province always put their heart and soul into this traditional craft.
Source: Saigon Times