The company thinks it has found the secret to gluten-free snacks that taste great | Lifestyles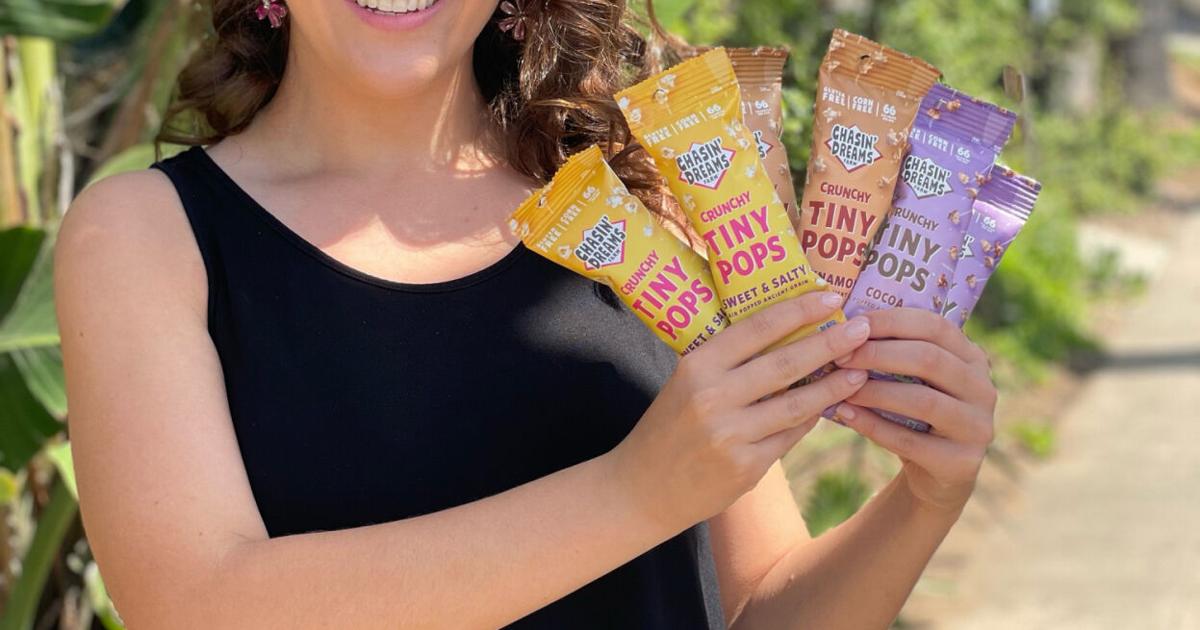 SAN DIEGO – Sydney Chasin has been gluten-free since she was 7 years old. That meant she couldn't take any bread or snack on any type of store-bought treat.
She described it as a time "long before gluten-free was what gluten-free is today," so she started experimenting in her family's kitchen with healthy snacks that tasted really good.
This lifelong craving for the best-tasting gluten-free snacks and her penchant for business led the 26-year-old entrepreneur to start her own snack business called Chasin' Dreams Farms.
Its product "Tiny Pops" are packets of crunchy sorghum, an ancient grain that is air-popped and comes in three different flavors – sweet and salty, cinnamon and cocoa. A handful of them look like mini popcorn and taste like nibbling nutty rice cake, which can be eaten alone or as a topping.
These little treats earned Chasin a first-place finish and a $20,000 grant last month in the FedEx Small Business Grant Contest — a nationwide competition that saw a record 18,000+ entries. She plans to use the grant to help fund inventory as well as amplify the company's online presence. The top prize also comes with services to help her business audit its search engine optimization, sustainability, and marketing.
Additionally, she was the contest's "Entrepreneur Choice Award Winner," a recognition bestowed by previous contest winners and small business owners. This award is based on a variety of factors ranging from the uniqueness of the product to the company's positive impact on the environment or community.
Chasin officially launched the business in 2018. But first, she took out a credit card with a $5,000 limit and the mindset of using the bare minimum to start her business.
She worked at a restaurant in New York and after her shifts she would come back to her apartment in Brooklyn to make prototype sorghum snacks. His mentality was to take it step by step, from incorporating the business to creating a solid prototype to show investors something real down the line.
"I think one of the biggest drivers is that I wanted to be an entrepreneur and be creative and do all these things," she said of charting a path outside of a corporate job. "And, the restaurant job was a means to an end that could allow me to realize that dream."
In the United States, sorghum is a grain used in animal feed, ethanol production and human consumption according to the Agricultural Marketing Resource Center. It can be steamed, sautéed, or used as a flour substitute for the specific market of people who eat gluten-free foods.
Some companies use sorghum in crackers, chips, and even offer popped sorghum snacks. But Chasin said her snack's differentiator is that it's air-puffed without oil and delivers sweet flavors with a super thin, crispy coating.
The brightly colored packaging of each Chasin' Dreams snack is loaded with healthy phrases such as gluten-free, plant-based, non-GMO, whole-grain, corn-free, and corn-syrup-free.
This vision of creating a "better for you" snack business is what moved her to San Diego a few years ago. Chasin said San Diego is a great place to launch a brand, be part of a community of natural product entrepreneurs, and connect with Southern Californians who have a reputation for caring about health and wellness. .
While there aren't acres of sorghum crops growing in the backyard of her Pacific Beach apartment — she sources her supplies from Kansas — there is a real place called Chasin Dreams Farms.
It was there that Chasin grew up in Barnesville, Maryland, a small town of about 150 people. It was there that she was raised by her mother, an artist who bred Shetland ponies, and her father, who was a racing driver and software engineer.
"It was a truly magical place that inspired innovation and creativity from simplicity, and it just wasn't an ordinary farm," she said. "In naming the company, we really wanted to come up with a name that reflects who I am."
Chasin has two employees who help her run the business, and she has continued to fundraise from friends, family and crowdfunding.
While the company is still in the early stages and has yet to turn a profit, in September it raised around $62,000 through investment crowdfunding platform Republic.
The company has also received support from snack industry veteran and angel investor Kathleen King, founder of Maine-based Tate's Bake Shop, according to Pitchbook.
Chasin' Dreams Farms is currently sold in five regions through an agreement with Compass Group, one of the largest sales companies in the United States. It's not available in stores in San Diego, but people can order it directly from the company's website or Amazon.
Chasin said the next steps for the company's growth will be to expand their distribution channels so more people can get Tiny Pops snacks.