Shannon and Robert's Great "Feol" Recipes: Patriotic Mason Jars | Way of life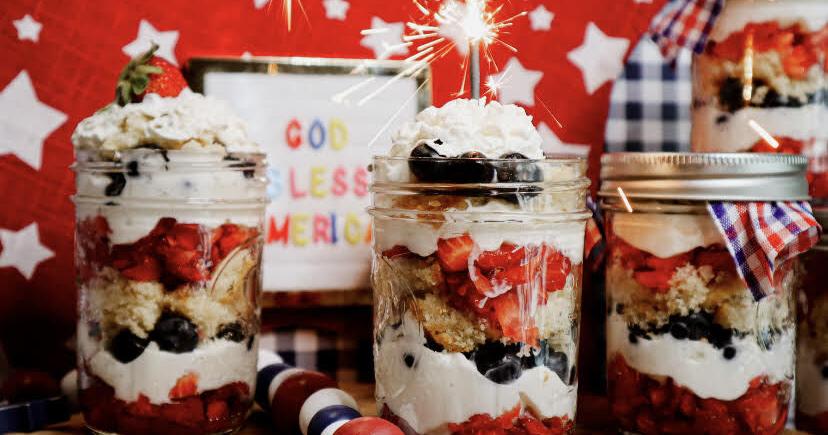 As we prepare for our 4th of July plans, many of us will be planning menus. And no Independence Day table would be complete without a jaw-dropping patriotic dessert. Sheet cakes decorated with American flags and large fruit trifles in large glass dishes often adorn tables covered with red or blue checkered tablecloths. The dessert I'm making this year is the lovely single-serve version of our favorite red, white, and blue desserts with the southern twist of a mason jar.
These trifles are cute and delicious – the perfect size to hang before finding a place on a picnic blanket for the fireworks show. They would be fine in a cooler on a pontoon boat. Or take them to the poolside or any barbecue.
They're super easy to make – with assembly being the longest – at 10-15 minutes depending on how many you make. Have a happy and safe fourth!
Ingredients:
1 batch cake batter (canned or homemade, see notes)

TWO 16 oz fresh strawberries

2 pints of fresh blueberries

1 package sugar-free vanilla pudding mix

2 cups half and half

Canned or homemade whipped cream

8 to 12 half-pint mason jars
Instructions:
Prepare cake mix according to package directions. Or for homemade gluten-free, check out the recipes tab on www.familywellnessjournal.com. Bake according to recipe instructions and let cool.*
To make the pudding, combine the pudding mixture with half and half, whisking thoroughly, then let set in the refrigerator for at least 20 minutes.
Cut the washed strawberries into small pieces with a knife or a food processor. Cut the cake into small ½ inch cubes. You may end up with a cube and crumbs, which is okay.
Assemble the trifles in the mason jars, layering all the ingredients in a red, white and blue pattern. Strawberries, then pudding, then blueberries, then cake and repeat. Garnish with whipped cream and berries. Can be enjoyed immediately or refrigerated for up to 5 days. Makes 8-10 half-pint mason jars.
*Recipe Notes: I like to make this cake gluten-free and sweet with a calorie-free sugar alternative. For this recipe, I used the cake recipe on my website (referenced above) with King Arthur 1:1 Gluten Free Flour Mix and King Arthur Zero Calorie Baking Sweetener, both available from Kroger . There are many good gluten-free and healthier cake mixes out there. Check your local grocery store for options.