Pumpkin Bars with Cream Cheese Frosting – Modern Honey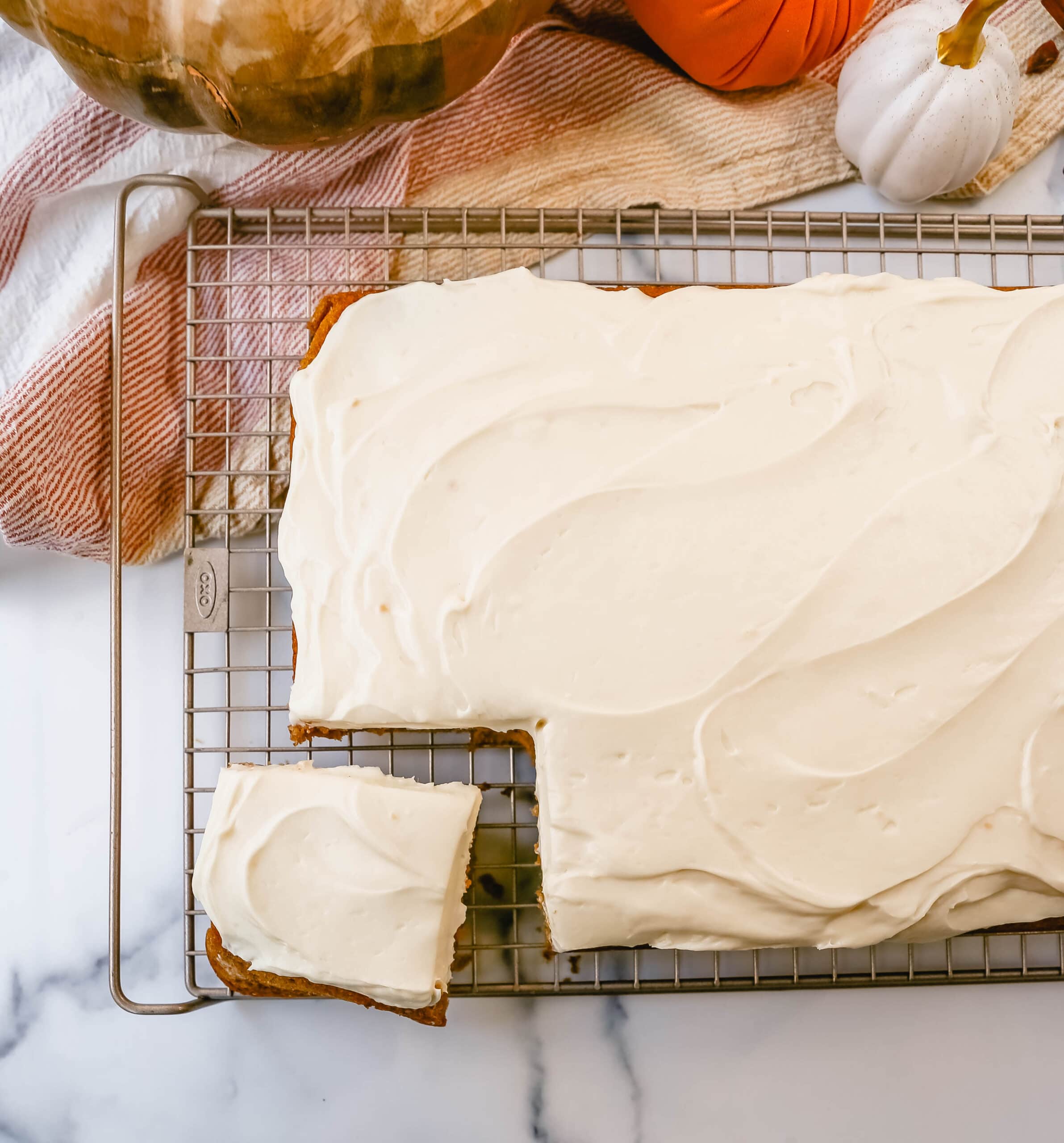 Pumpkin Bars with Cream Cheese Frosting are moist pumpkin spiced bars topped with a homemade sweet cream cheese frosting. The best pumpkin seabass recipe!
I keep the canned pumpkin makers in business! I just can't keep cooking fall recipes and I crave everything pumpkin.
This morning I asked my Instagram followers what pumpkin recipe they wanted to see next on Modern Honey. Pumpkin Bars with Cream Cheese Frosting won the popular vote, so I took care of the cooking.
I usually don't turn recipes that quickly because there are usually multiple rounds of recipe testing to do, set up a photo shoot, capture hundreds of photos, upload the photos, edit the photos in Lightroom, choose favorite photos , uploading them to my website, writing the recipe post, marketing the recipe post on all my social media platforms, writing a newsletter, and then cleaning up the mess I made in my test kitchen . It's been a busy day!
But I promised you a recipe tonight and I want to deliver it to you! These frosted pumpkin bars are to die for and they turned out absolutely perfect, so I couldn't wait to share the recipe with you. I love the combination of pumpkin and cream cheese!
The key to making these pumpkin squares extra fluffy is to use a combination of oil and buttermilk. This creates a soft, fluffy, moist texture that stays moist. I've tried making Pumpkin Bars and Pumpkin Cake before without buttermilk or sour cream, but I love the difference it makes in this recipe.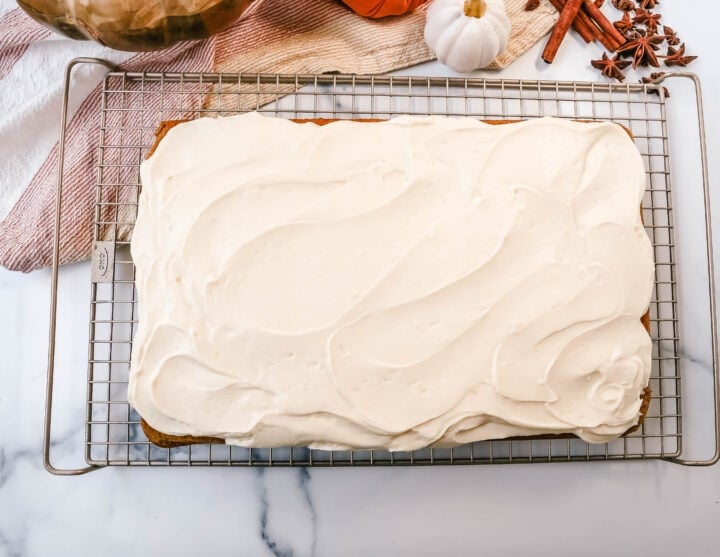 PUMPKIN BAR INGREDIENTS:
Canned Pure Pumpkin — Use only 100% pure pumpkin, NO pumpkin pie filling
brown sugar
Granulated sugar
Oil — use any type of oil like canola oil, vegetable oil, olive oil, etc.
Eggs
Vanilla extract
Buttermilk or whole milk — can replace 2% or whole milk
Plain flour
pumpkin spice
Cinnamon
Baking powder and baking soda
Salt
Cream Cheese Frosting Ingredients:
Salted butter
Granulated sugar
Milk or heavy cream
Vanilla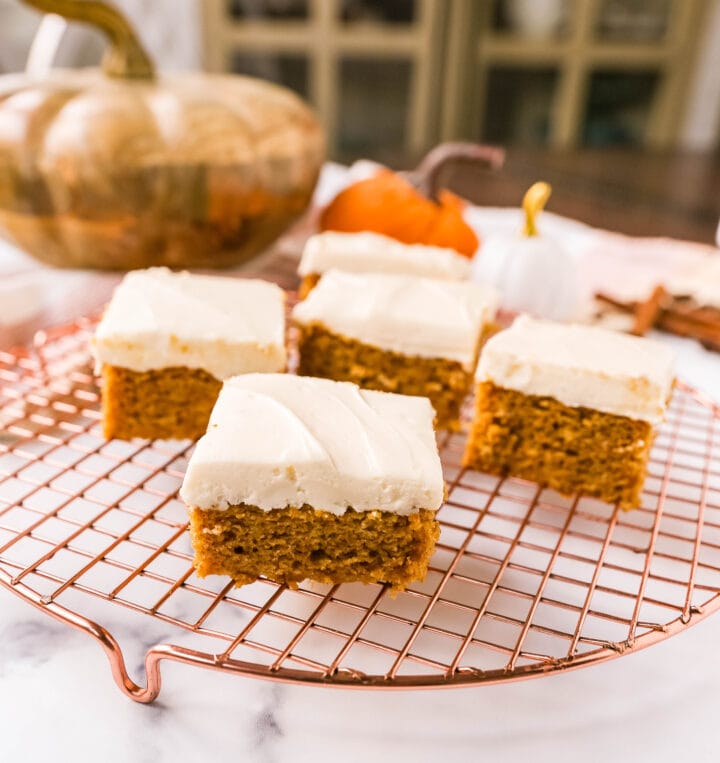 What is Pumpkin Spice?
Pumpkin pie spice, also known as pumpkin spice, is a spice blend usually used in pumpkin pie.
Pumpkin spice is usually a mixture of ground cinnamon, nutmeg, ginger, cloves, and sometimes allspice. The main ingredient in pumpkin pie spice is cinnamon.
You can find pumpkin spice in the spice section of your local grocery store.
What size pan should I use?
I suggest using a jelly roll pan, which measures 15 x 10 x 1.
If you want thicker pumpkin bars, use a 9 x 13 pan.
If you desire thinner pumpkin bars, use a regular size cookie sheet, which measures approximately 17 x 13 x 1.

How to make Pumpkin Bars with Cream Cheese Frosting:
Start by mixing the oil, brown sugar, sugar, eggs, vanilla and buttermilk for 3-4 minutes until creamy. Add pumpkin and mix for 1 minute more.
Stir in flour, pumpkin pie spice, cinnamon, baking powder, baking soda and salt and blend until most of the bumps disappear.
Place a sheet of parchment paper in jelly roll pan and spray with nonstick cooking spray. If you don't have parchment paper, spray the pan with nonstick cooking spray.
Pour pumpkin batter into pan and distribute evenly in the corners.
Bake. Allow to cool before frosting. If you used parchment paper, you can invert the bars onto a cooling rack and peel off the paper. This makes it easier to cut the bars.
Make the cream cheese frosting and once the bars have cooled, spread the frosting all over. Cut into squares.
TIPS:
When you're ready to square pumpkin, there are a few ways to make the job easier.
Freeze bars for 30 minutes before slicing to make them easier.
If you use sheets of parchment paper, you can remove the bars from the pan or invert them on a cooling rack. This makes them easier to cut.
Use a plastic knife to cut the bars. It creates a smooth edge.
PUMPKIN RECIPES: