Mixed Greens Skillet Spanakopita Recipe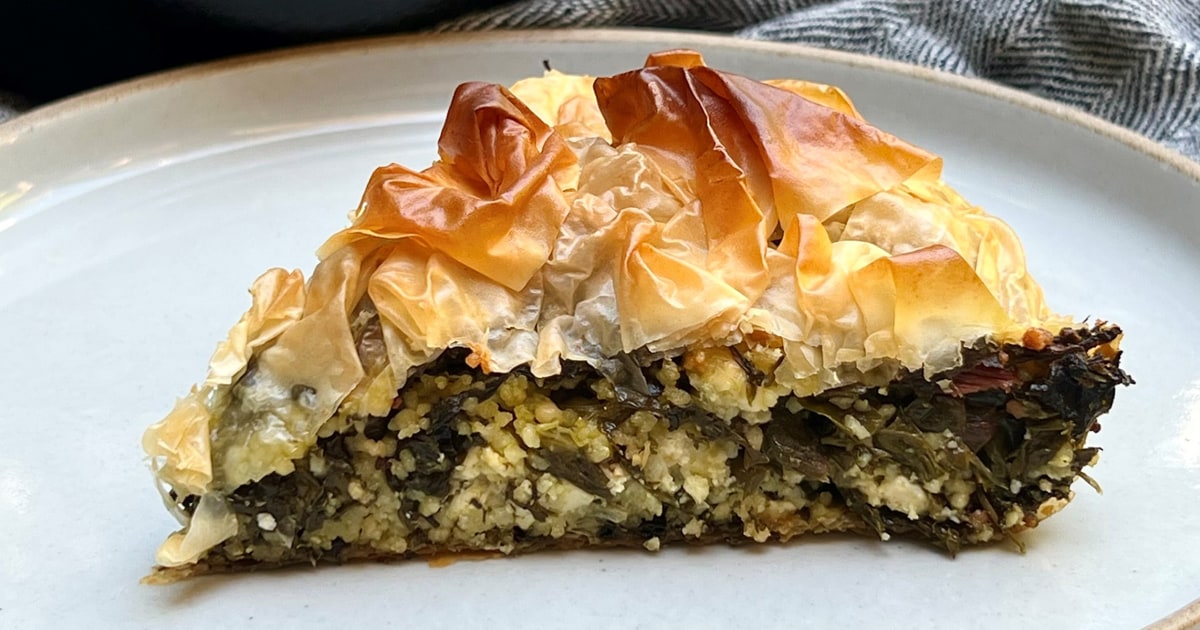 Chef's Notes
Are you overexcited at the market and buying too many greens and herbs, only to have them wither in the crisper? Yeah me too. Don't worry: this mixed green spanakopita is here to save them all! Use any assortment of tender greens and herbs you have available: Swiss chard, arugula, carrot and radish tops, parsley and dill. The key here is to stick to tender, quick-cooking greens — hearty cabbage or kale won't have enough time to get tender in this pie. If you're not sure if your vegetables are tender, taste them. If they are pleasant to eat raw, they are tender. If they taste stringy and harsh, save them for braising in a bean pot instead.
Technical tip: Don't rush to thaw the phyllo dough in the microwave where it can dry out and crack. Instead, leave the packet in the refrigerator to slowly thaw overnight. Wrapped tightly, store leftover phyllo in the refrigerator for up to 2 weeks (do not refreeze). Use it to make baklava, cheese-filled triangles, strudel or crinkle cake.
Possibility of exchange: Swap the fresh, tender veggies for two 9-ounce bags of frozen spinach (thaw before using, don't squeeze out excess liquid). Make it vegan: Replace the feta with vegan feta or medium-firm tofu, omit the egg and let cool completely before serving.
Preparation
1.
Adjust the oven rack to the lower middle position and heat to 400 F. Generously brush a 10-inch skillet (or 9-inch-deep pie plate) with olive oil and place on a baking sheet .
2.
In a large bowl, combine the greens, herbs, olive oil, feta brine (or lemon juice), salt and pepper. Use your hands to mix everything together and massage the greens until dark, wilted and silky, about 3 minutes. (The combination of salt, acid, and massage breaks down the greens, so they cook faster.) Taste and add more salt and pepper, if needed.
3.
Add couscous (or bulgur) and egg, and mix until combined. (The couscous/bulgur absorbs the moisture released by the greens and prevents your pie from having a soggy bottom.) Add the feta and stir until combined.
4.
Unroll the thawed phyllo dough and keep it covered with a damp towel as you work. Working with 1 sheet at a time, lay in the pan (or pie pan) with the excess draping around the edge and brush generously with olive oil. Repeat until you have a total of 8 phyllo sheets lining the pan, with each sheet placed perpendicular to the previous one, brushing with olive oil before adding the next.
5.
Add filling, pressing down gently in an even layer. Fold over the phyllo pastry overhang then drape the last 4 sheets over the top, crumpling them to cover the top. Drizzle with olive oil, then use a sharp serrated knife to cut into portions (just cut through the top layer of phyllo, it makes it easier to get clean slices after baking).
6.
Bake until top is golden brown and crispy, about 45 minutes. Let cool at least 15 minutes before serving. Slice again with a sharp knife. Eat hot, cold or at room temperature. Store leftovers tightly wrapped in the refrigerator for up to 4 days.