Local shops make our holidays sweeter | Culinary characteristic | Savannah News, Events, Restaurants, Music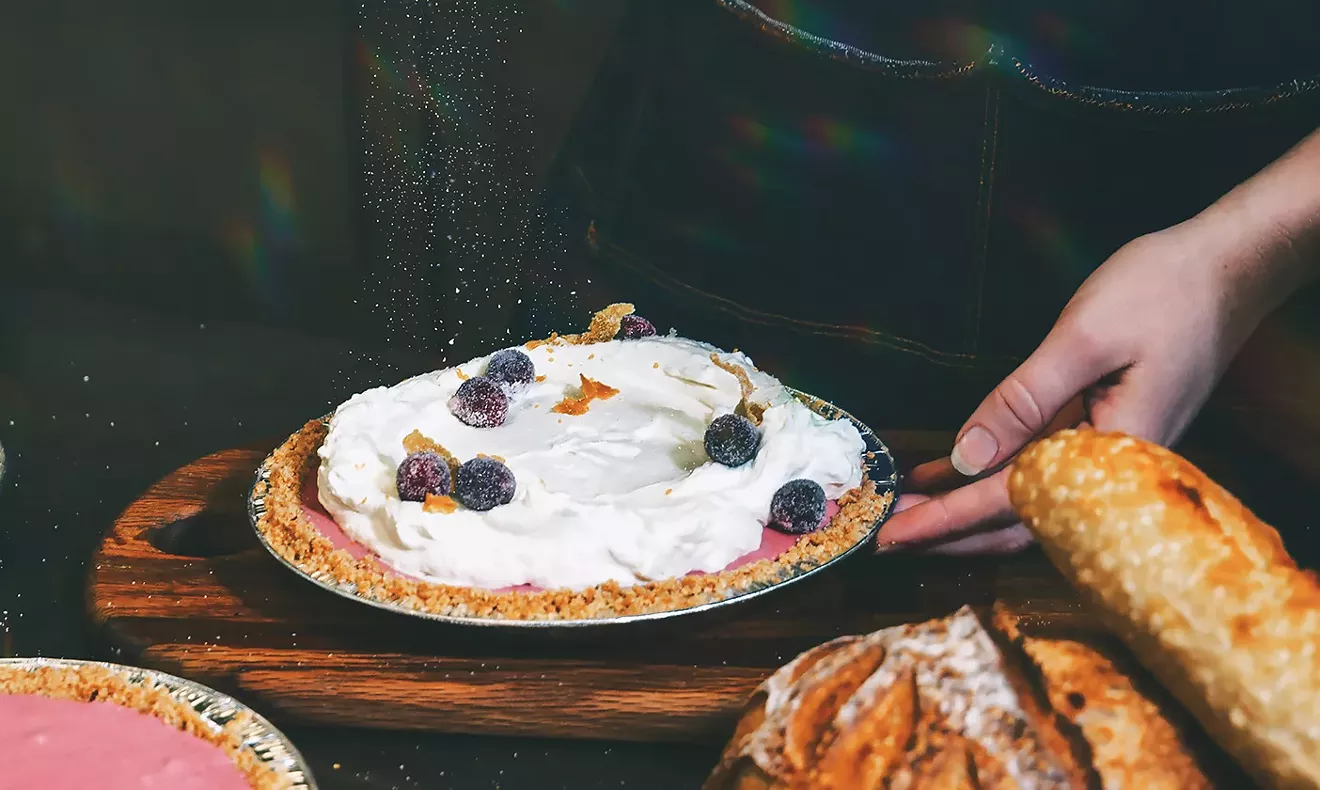 A revered time for gathering and gratitude, Thanksgiving is right around the corner. For many, Thanksgiving preparations involve planning and executing a hearty meal to share with loved ones. People often spend hours or more cooking their Thanksgiving meal, but not everyone does.
Some choose to avoid the stress of Thanksgiving cooking by having their holiday meals prepared. If you want to join the ranks of those buying their meals catered this year instead of cooking at home, consider placing your order with a local restaurant. There are several restaurants in Savannah that offer delicious holiday meals so you don't have to do it all yourself. Save time and headaches by ordering a prepared meal from one of these local restaurants.
Auspicious Baking Co.
Auspicious Baking Co. is known for some of the freshest, flakiest baked goods available in town, perfect for your Thanksgiving feast. Sweeten your meal with one of their palate-pleasing pies.
"We make all our basic pies. . . but we always release a special pie and this year we are trying a cranberry pomegranate mousse pie. it's going to be really nice [with] . . . more of a fresh finish for your Thanksgiving dinner, as opposed to pecan pie or apple pie, which can be a bit heavier after eating all that turkey. So I think the cranberry pomegranate pie will be a nice addition," said chef Katie Bryant.
In addition to pies, Auspicious Baking Co. also offers a takeout and bake cinnamon roll special.
"People love our cinnamon rolls with the cream cheese frosting. We usually sell hundreds of these on a holiday like this. We started introducing take-out and cook-in kits, and people love it," she said.
Bryant is encouraging locals to turn to Auspicious Baking Co. for their baked goods needs this Thanksgiving.
"We put a lot of love into the product. We have a huge team here putting tons of effort into putting everything together. We do our best to make everyone really feel comfortable and at ease with the holidays. It can be a huge undertaking when you're feeding a family, trying to bake buns and pies and everything is timed accordingly. We just want to make it a little easier for everyone," she explained.
Thanksgiving pre-order is available through Sunday, November 20 online at auspiciousbakingco.com/. The pick-up will take place on Wednesday, November 23 from 8 a.m. to 2 p.m.
Cotton & Rye
Cotton & Rye is back with its Sides & Pies Thanksgiving pop-up, bringing bold flavors to your table. Sides include traditional entrees like green bean casserole and southern chicken and dressing. They also offer inventive pies like their Browned Butter Pecan and Parsnip Pie, which features a cocoa crumble crust and dark chocolate caramel ganache. Online ordering is available daily at toasttab.com/cotton-rye/v3 from 11 a.m. to 8 p.m. while supplies last. (Above: Green bean casserole with brandy cremini mushrooms, caramelized onions and homemade rye bread crumbs. Instagram @cottonandrye)
tank top
The recently opened Stevedore Bakery is celebrating its first Thanksgiving with delicious specialty pies and cakes available for pre-order. Pies include Honey Chess Pie, which is a spin on a Southern classic, Salted Caramel Apple Pie, and their delicious Chocolate Pecan Pie. They also have a cranberry upside-down cake made with fresh cranberries, candied citrus peel, and cranberry frosting, which is perfect for the holidays. Orders must be placed at least three days in advance. Visit them online at stevedorebakery.com/ to place your order. (Above is a selection of pies from Stevedore's Bakery)
Savannah Smokehouse
Savannah Smokehouse is known for its daring barbecues year-round, but it also has great Thanksgiving dishes. Their Heat n' Serve holiday feast serves 12 people and comes with a smoked whole or sliced ​​turkey, cornbread dressing, gravy, choice of two sides, and pecan pie or with pumpkin. You can also order the turkey on its own along with a casserole of cornbread dressing. Email them to [email protected] to order.
lady and son
The Lady & Sons is offering a Christmas Eve catering this year. You can create a custom order choosing from their wide range of tasty options. Orders must be placed at least 48 hours in advance for pickup between 12 p.m. and 3 p.m. the day before Thanksgiving. You can place your order online at ladyandsons.com. (Above, dining options for The Lady & Sons)
There are also several restaurants that are open on Thanksgiving Day and ready to serve you and your loved ones a magnificent meal. Make your reservation and get ready to dine while on vacation at one of these excellent establishments.
McDonough's
A Savannah classic, McDonough's throws a special Thanksgiving party during the holidays from 11 a.m. to 4 p.m. They will serve turkey, ham, stuffing, macaroni and cheese, cranberry sauce, rice and beans and all the other traditional fixings of a delicious holiday meal. The meal will be served buffet style and no reservations are necessary as food will be served on a first come, first served basis. Come hungry and leave happy with a festive meal at McDonough's.
The DeSoto Savannah
The DeSoto invites you to its traditional Thanksgiving feast in its Oglethorpe Grand Ballroom. From 12 p.m. to 6 p.m., customers can enjoy fresh dishes, Thanksgiving classics, and an abundance of treats. The all-inclusive buffet is $65 per person with cocktails available at an additional cost. Families are invited to come for dinner. Children under 5 years old are free and children from 6 to 12 years old are half price. If you dine with The DeSoto on Thanksgiving Day, you can also get complimentary valet parking.
Rocks on the river
Located in the Bohemian Hotel, Rocks on the River hosts a special Thanksgiving buffet during the holidays from 11 a.m. to 7 p.m. The menu consists of traditional Thanksgiving dishes, like honey-glazed ham, as well as southern-inspired staples, like oyster stuffing. . RSVP and get ready to enjoy a memorable meal without all the work.
Fleeting
Not a turkey fan? No problem! Fleeting has the holiday meal for you. Their turkey-free Thanksgiving menu has everything you love about holiday dinner except traditional poultry. The prix-fixe meal includes three courses for $95 per person. The menu will be served from 2 p.m. to 7 p.m. on public holidays. Reservations are recommended.
River boat cruise
Forget the ordinary and do something different for Thanksgiving. Take a riverboat cruise and enjoy a delicious holiday buffet, live music, and striking views as you cruise along the Savannah River. Two cruises are available during the holidays, with the first boarding at 11:30 a.m. and the second at 4 p.m. Prices are $109.95 for adults, $62.95 for children ages 5-12, and free for children 4 and under.
sixpence pub
Six Pence Pub is throwing an affordable Thanksgiving feast at just $19.95. The menu includes all the traditional staples, with dessert, a sweet slice of pumpkin pie, available for an additional $4.95. Their regular menu will also be served during the holidays.
The Pirate's House
The famous house of pirates offers its large Thanksgiving buffet during the holidays from 11 a.m. to 8 p.m. Prices are $52.95 for adults, $22.95 for children 4-12, and $5.95 for children 3 and under. The buffet includes a wide variety of salads, sides, seafood, sweets and traditional holiday dishes. With so many options on the menu, there really is something for everyone. Call (912) 233-5757 to make your reservation.
from Belford
City Market Restaurant, Belford's is hosting a special Thanksgiving dinner for $80 per person. The menu includes all the traditional toppings plus South Coast favorites like their award-winning Crab Cake and Gulf Shrimp. There are plenty of menu items to satisfy any Thanksgiving palate. Email [email protected] to make a reservation.
aqua star
Aqua Star Restaurant at the Westin Savannah Harbor Golf Resort & Spa offers a delicious Thanksgiving feast of fresh, flavorful produce that's perfect for the holidays. At $85 per person, guests can enjoy a variety of treats from the garden, as well as turkey and pork loin carving stations and several Savannah favorites. There will also be an assortment of pies, cakes and treats to satisfy your sweet tooth. Their Thanksgiving menu will be available from 11 a.m. to 8 p.m. on the holiday.
House card
The Chart House welcomes you to take advantage of their Thanksgiving Day menu offerings. Their all-inclusive three-course dinner is available at $55 per person. It includes a starter, a traditional dinner with turkey or other main courses and a dessert of your choice.
Rhett
If you're interested in a Thanksgiving brunch, make your reservation with Rhett. They offer a special holiday brunch from 7 a.m. to 2 p.m. with all your brunch favorites as well as some festive dishes. They also host a traditional Thanksgiving dinner from 5-10 p.m. The prix fixe menu includes three dishes that you can enjoy for $65. Picture below. Instagram @diningwithrhett