Jenny's Marie Antoinette mini Bundt cakes: today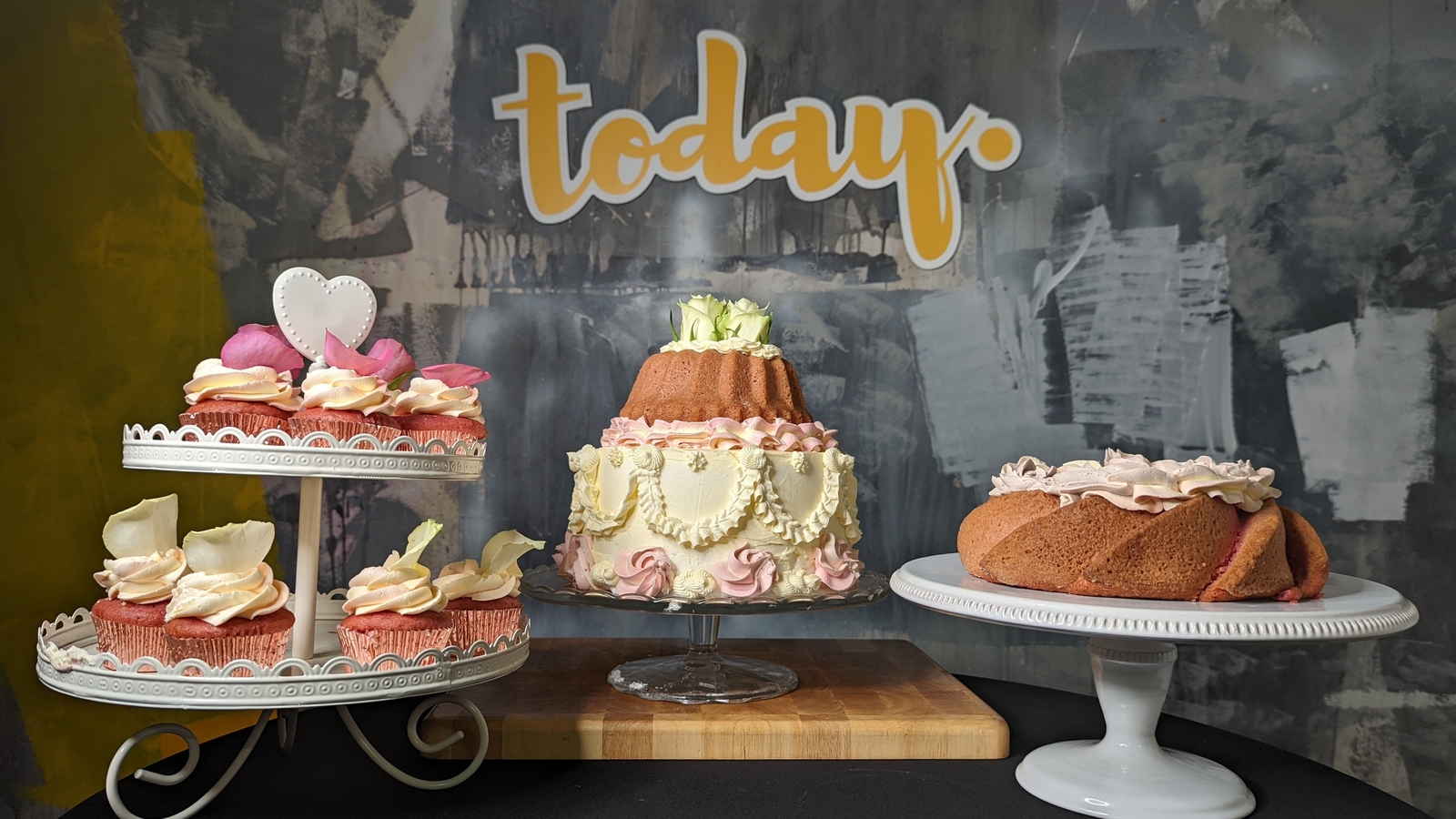 Let them eat cake!
Ingredients
Serves: 8-10
370g plain flour
340 g caster sugar
1/2 teaspoon of salt
1 tablespoon baking powder
1/2 teaspoon soda bread
142g egg whites at room temperature
113g vegetable oil
284 g buttermilk at room temperature or slightly lukewarm
170 g unsalted butter, melted but not hot
2 teaspoons of vanilla paste
2 drops electric pink food coloring (optional)
Serving tips
Chantilly cream (cream, icing sugar & vanilla)
Decorate: edible pearls, roses, edible flowers, edible gold, etc.
Method
Heat the oven to 165°C – 175°C. I tend to use a lower setting to prevent my cakes from getting too dark on the outside before the inside is done.
Prepare mini Bundt pans or muffin pans with a spray of oil or a generous amount of unsalted butter and flour. Fill your molds about 3/4 full with batter.
Combine the flour, sugar, baking powder, baking soda and salt in the bowl of a stand mixer with the paddle attachment. Stir 10 seconds to combine.
Mix 1/2 cup milk, melted butter and oil together and set aside. Combine remaining milk, egg whites, pink food coloring and vanilla, whisk to crack eggs and set aside.
To the flour mixture, add your milk/oil mixture and allow to mix until the dry ingredients are moistened and allow to mix for 2 minutes to develop the structure of the cakes. If you don't let your cake mix at this stage, your cake could fall apart.
Scrape your bowl then reduce the speed to low. Add your egg white mixture in three additions, allowing the batter to mix for 15 seconds between additions.
Scrape the sides again to make sure everything is incorporated, then pour into the prepared pans. Bake, 35 to 40 minutes, until a toothpick inserted in the center comes out clean but the cake has not yet started to shrink from the sides of the pan.
IMMEDIATELY tap cake pan firmly on counter once to release steam from cake. This prevents the cake from shrinking.
Let the cakes cool for 10 minutes inside the pan before unmolding them. The cake will shrink slightly and this is normal. Invert onto a cooling rack and let cool completely. I cool my cakes before handling them or you can wrap them in cling film and freeze them to trap the moisture in the cake. Thaw on counter still wrapped before frosting.
In a cold bowl, whip your whipped cream. Add your icing sugar and vanilla and mix until combined, do not over mix.
Decorate your cake as you like, edible pearls, edible flowers and edible gold would be my choice.
This cake is so moist, velvety and gorgeous that any decoration would literally be the icing on the cake!