In Boulder, a 'crazy' idea led to a sweet and savory staple | Colorado Envy | Way of life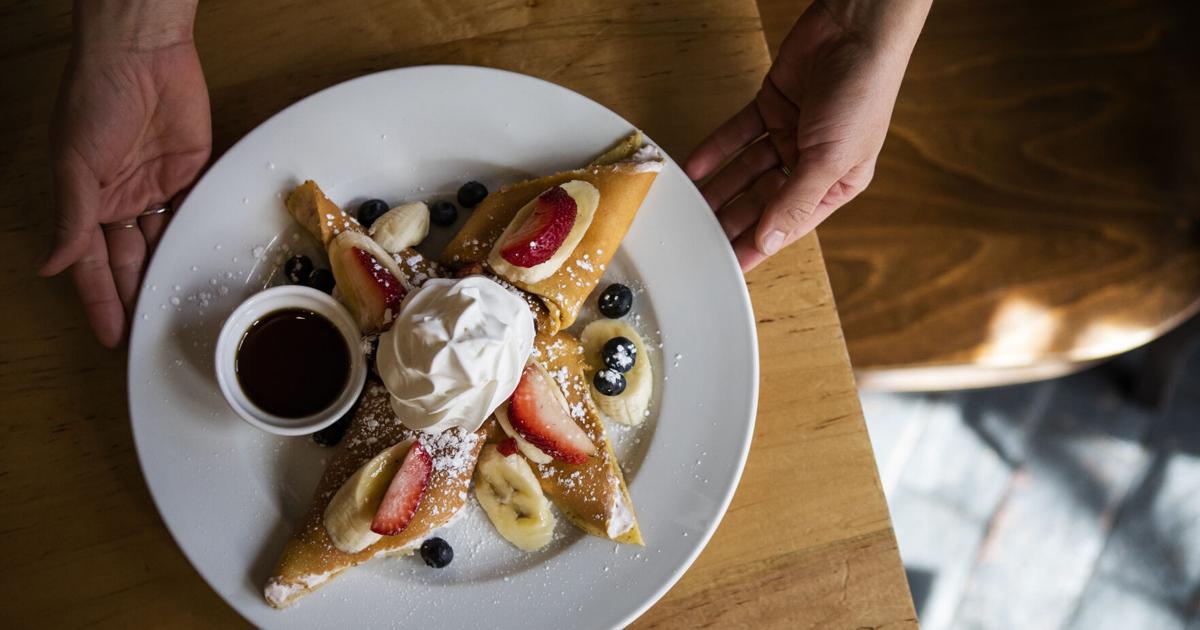 BOULDER • There was a general manager of a bagel shop, and there was a graduate student, a temperamental philosophy student, with big hair and glasses and cooking in the dark before class.
It was the unlikely duo that went on to create a breakfast and lunch institution in town, 24 years in a row now. April Fool's Day is the recognized birthday, as traditional as the fresh bread that goes between the ultimate craving: slow-braised pork and corned beef.
This is Foolish Craig's Cafe on the east side of Pearl Street, its yellow exterior and bohemian interior are hard to miss. It's Craig Moelis from the 1990s, himself baking bagels depicted in the joint logo, afro and glasses and Charlie Brown shirt. It seems to fall. He somehow fell into the restaurant.
"I never thought I would do something like this," Moelis says. "Not in a million years."
Who speaks in the name of coffee.
One story suggests that Moelis called his father about the business venture; the boy once had political ambitions before moving on to philosophy, and now he was onto something 'dumb' about sandwiches, salads and sweet and savory pancakes. There is another story about poolish. Moelis insisted on this kind of time-consuming bread starter, insisted that the subtle depth of flavor was worth it, and so he was "insane with the poolish."
Twenty-four years later, fans come asking for Foolish Craig. They wonder how stupid the man must be behind this quirky spot displaying year-round Christmas decorations and weird art and dangling a pair of tattered sneakers from the ceiling. They might be disappointed to find someone not so dumb, but rather shy and analytical.
"I'm the asshole here," says co-owner Mitch Arden, the former bagel boss. "Craig is like the smart, smart, thoughtful guy."
And what was Moelis thinking when Arden had the idea to leave the bagel shop to open his own restaurant?
"Probably, honestly, he didn't think much about it," Arden says. "Or he didn't really know what to think about it."
And what was Moelis thinking when the Food Network called over 10 years later? He thought someone else, someone more vivacious, should be on camera with the bubbly "Diners, Drive-Ins and Dives" host.
A kind cook hosted Guy Fieri for the episode that aired in 2011. Fieri happily devoured the BLT with handmade guacamole between fresh homemade oatmeal bread, before moving on to butterscotch cake and rum, cream cheese frosting smothered over 21 crepe layers.
But hey, there was Moelis in the follow-up episode that aired last year. He shrugs now. "I came out of my shell a bit," he says.
Originally from New York, the out-of-school Moelis stayed on the East Coast to work in Washington, DC. He raised funds and lobbied senators to try to improve US-Israeli relations. "Politics, man, it really wears you out," he says. "Two years of that was a lot."
In Boulder, where he grew his hair in the wake of the hippie movement, immersed himself in existentialism and, for money, practiced a simpler, more pure craft: bagels. He and Arden hatched an idea that seemed well suited to Boulder.
The city was different then in 1998, says Arden. "It felt more like a small town and not so… posh. I don't mean that in a bad way. It just wasn't that… upscale.
Foolish Craig's opened on this side of Pearl Street "which wasn't as vibrant as it is today," says Moelis.
There are now shops with names like Bliss, Sweet Green and Crystal Joys. Down the street are the concept restaurants that dominate the scene; these chef-inspired kitchens contributed to Moelis and Arden's diner abandon several years ago. Also down the street is Illegal Pete's, a restaurant the duo saw start in Boulder and expand around the Front Range.
As for Foolish Craig's, they decided to stay put. Keep it simple.
"There's a lot of freedom to be had in having your own place, doing your own thing," Arden says.
Of course, call Craig a fool. There's a secret to that longevity, he says: "Having fun. Don't take yourself too seriously. »
On the menu
Patrons' advice: Look out for the pulled pork and corned beef. Both are braised between five and six hours.
The Porktastic is one of 11 crepe creations from the café at the last check ($10 to $15, with homemade potatoes or cheesy grits): pulled pork, bacon, mushrooms, onions, pear apple marmalade and sweet soy . The Cuban sandwich is also popular. Corned beef and the rye specialty are Reuben's co-stars. The corned beef hash was a star in "Diners, Drive-Ins and Dives."
The Foolish Craig is at the top of the pancake menu, loaded with bacon, mushrooms, onions, roasted red peppers, potatoes, eggs and salsa. Vegetarians might opt ​​for the Duxelles, with mushrooms, onions and shallots sautéed in butter, Swiss cheese and a savory velvety French-inspired sauce. The Whole Thing combines caramelized nuts and bananas, Nutella, brown sugar, cinnamon and whipped cream. The Strawberry and Nutella Crepe is almost as popular as the Buttery Rum and Caramel Crepe Cake.
Benedict Crab Cake is a favorite of co-owner Mitch Arden. Other Benedicts ($13-$15, with potatoes or cheesy grits) with chorizo, fried chicken and smoked salmon.
The Boulder is popular among omelettes ($14, with side dish), blending broccoli, green peppers, onions, mushrooms, tomatoes, cheddar, and pesto or salsa. Also Mexicali Blues, with spicy black beans, cheddar cheese, homemade guacamole, salsa and sour cream (add pulled pork or chorizo).
Foolish Craig himself loves the Foolish Huevos ($12), two eggs topping a pancake with black beans, potatoes, broccoli, mushrooms, onions, tomatoes, green peppers, cheddar and cheese. salsa. Also pancakes, waffles and French toast.
Choice of fresh homemade wheat, rye and baguette for the sandwiches ($11, with chips or add fries). Homemade hummus on mediterranean vegetable. Red Bird Chicken with Sun Dried Cranberries, Walnuts, Lettuce, Tomato, Onion and Sprouts on Chicken Salad. Choice of adding a half salad to the sandwiches or the whole order ($12): Cobb, pan-fried salmon, Asian pear and spinach nuts.
Hot chicken sandwiches as well as several angus beef burgers ($15).