Hannibal's cook focuses on family favorites | Food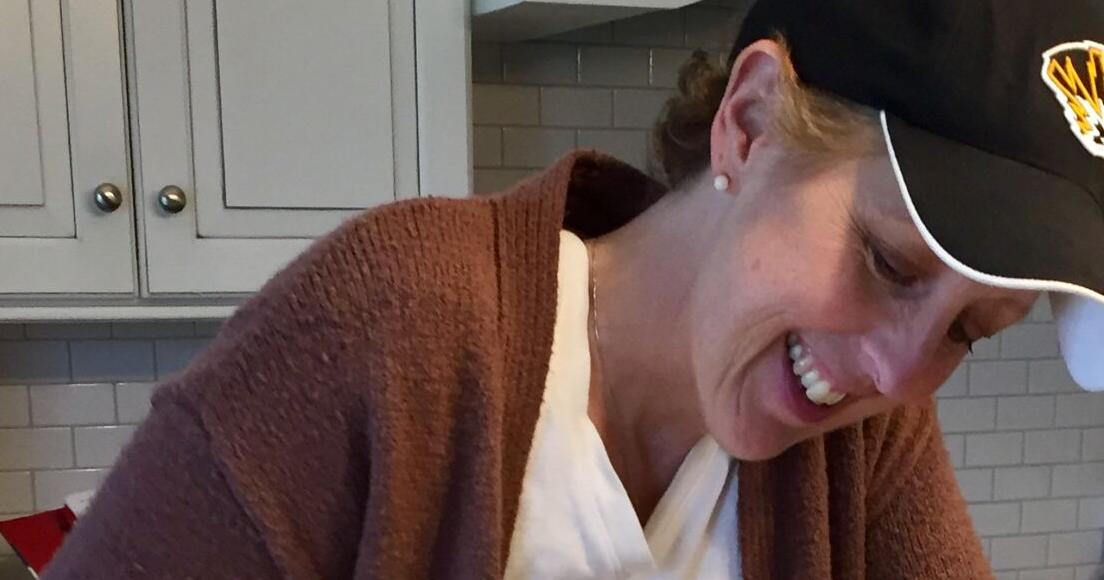 HANNIBAL, Mo. — Karen Wetton isn't afraid of a little adventure in the kitchen.
"I'm ready to try anything. My family is ready to eat just about anything," the Hannibal wife said.
She'll ask these family tasters to try something new before taking her somewhere to share with others, and a new favorite, Tres Leches Marble Cake, has passed the test.
A vanilla sauce made from three milks slowly penetrates the marble cake, which is topped with sweetened whipped cream and grated chocolate before serving.
"You can use Mexican chocolate. We try to do everything we can with dark chocolate," she said.
Wetton found the cake recipe online, but still relies mostly on well-used recipe cards — "these are the right recipes," she explained — and cookbooks for many of her favorites. husband Steve and their children Christopher, 24, Suzanne, 21, and Jacques, 14.
Wetton learned to cook from her mother growing up first in St. Louis, where Mostaccioli was a fixture at family gatherings, and then in Hannibal, where she moved in sixth grade. More inspiration came from recipes passed down from her husband's grandmother, including her favorite chocolate angel food cake served for family celebrations.
Paying attention to the details — like sifting flour for angel food cake or browning a pork roast to enhance flavor — makes a difference. And even simple recipes, like Chocolate Vanilla Chip Cake, can turn into popular dishes. "It's so easy. Everyone loves it," Wetton said.
"Anyone can be a good cook. You have to follow the instructions and you have to have the right things," she said. "I want to hurry up and cook. My husband says take your time, make sure you don't cook too fast.
Wetton, who teaches at Holy Family, and her husband often share kitchen duties – he grills while she does the dishes indoors, mostly from scratch – and their youngest also enjoys spending time in the kitchen.
Many meal ingredients come from the courtyard garden, the asparagus field at this time of year, and later in the season, blackberries, raspberries and fruit trees for pies and cobblers. The Wettons hunt deer, turkey and duck, and "we get most of our pork, most of our beef from people we know. We know where our food comes from," Wetton said.
After battling breast cancer last year, she is focusing on healthy recipes and limiting sugar, even while enjoying desserts. "I reduce the amount of sugar in many recipes and I don't even notice it," she said.
But she won't change some favorite recipes, like the beer bread served by a King's Daughters group at the annual Folklife festival or her dad's favorite, Icebox Cake. "It's an old favorite that a lot of people had," she said. "You must have Milnot. It's like cheesecake.
Folklife Festival Beer Bread
1 can (12 ounces) room temperature beer (not flat)
2 ½ to 3 cups self-rising flour
Combine all ingredients and place in a buttered loaf pan (about 9 x 5 x 3 inches). Bake at 325 degrees for 1½ hours. Butter the top of the bread every 30 minutes.
1 pound mostaccioli noodles
1 ½ pounds ground beef, browned and drained
1 can cheddar cheese soup
1 teaspoon Italian seasoning
1 jar (30 ounces) spaghetti sauce
3 cups shredded mozzarella, divided
Combine all ingredients with 2 cups of shredded mozzarella in a 9 x 13 inch baking dish. Sprinkle the rest of the cheese on top. Bake at 400 degrees for 25 minutes.
1 ½ teaspoons cream of tartar
Sift the flour, ¾ cup sugar and cocoa together four times. Beat egg whites with salt until fluffy. Add cream of tartar and beat until stiff but not dry. Add the remaining ¾ cup sugar 2 tablespoons at a time, mixing thoroughly. Add the vanilla with the last sugar. Sift the flour mixture over the top, a little at a time, and lightly incorporate by hand with an up and down motion.
Pour the batter into an ungreased 10-inch angel food cake pan. Bake at 350 degrees for 50 minutes. Invert the mold to cool.
Chocolate and vanilla chip cake
1 box chocolate pudding (three ounces) (not instant)
Chocolate and vanilla chips
Cook pudding according to package directions. Combine with cake mix and mix well. Pour into a greased 9 x 13 inch pan. Sprinkle the top with chocolate chips and vanilla. Bake at 350 degrees for 25 minutes.
1 package (8 ounces) cream cheese
5 tablespoons lemon juice
1 can Milnot evaporated milk (freeze for 30 minutes)
Dissolve gelatin in boiling water. Cool until slightly thickened. Combine cream cheese, sugar and vanilla. Add gelatin and lemon juice; mix well. Whisk the Milnot until frothy (like marshmallow). Fold together with the cream cheese mixture.
For the crust, combine ½ cup melted butter and 2 ½ cups graham cracker crumbs. Press into a 9 x 11 inch pan. Fill the crust with filling. Refrigerate overnight before serving.
9 eggs, separated, room temperature
1 ½ cups plus 1 tablespoon flour
3 teaspoons vanilla extract
¼ cup unsweetened cocoa powder
1 can (14 ounces) sweetened condensed milk
1 (12 ounces) evaporated milk
3 teaspoons vanilla extract
2 ½ tablespoons powdered sugar
Beat egg whites on medium-high speed until soft peaks form, about 4 to 5 minutes. Reduce speed to medium and slowly add sugar, beating until whites form stiff, glossy peaks. Transfer to a large bowl and set aside.
Pour the egg yolks into a large bowl and beat with a whisk or fork until fluffy and pale yellow. Add vanilla and continue beating until fully incorporated. Gently fold the egg yolk mixture into the egg white mixture with a rubber spatula, being careful not to deflate the whites. Stir in the flour ¼ cup at a time and mix well. The dough will look a bit streaky.
In a small bowl, combine hot water and cocoa powder. Pour half of the cake batter into another bowl and stir in the cocoa mixture with a rubber spatula until well blended.
Spread the vanilla batter in a buttered 9 x 13 inch pan, lined with parchment paper on the bottom. Pour the chocolate batter over the top in a straight line towards the center. With a knife or spoon, make a swirling pattern from side to side of the pan.
Bake at 350 degrees for 22 to 25 minutes, until the top of the cake is light brown and spongy to the touch. Take out of the oven and let cool down.
Invert the cake onto a large platter or board and remove the parchment paper. Cover the cake with an upside-down dish large enough to hold it and the vanilla sauce, and flip again so the cake is right side up. Using a fork, poke holes all over the top of the cake for it to absorb the sauce.
Mix the three milks and the vanilla, stirring to combine well. Pour about ⅔ of the sauce over the cake. Don't worry if you feel like there's too much sauce; the cake will absorb it. Cover and refrigerate for at least two hours or overnight. Reserve the remaining vanilla sauce.
When you're ready to finish the cake, take it out of the fridge. Pour the remaining sauce on top of the cake.
Whisk together whipped cream and powdered sugar. Cover top and sides of cake with sweetened whipped cream. Garnish with grated chocolate.