For a tall cake, opt for the Bundt | Taste, Santa Fe's food scene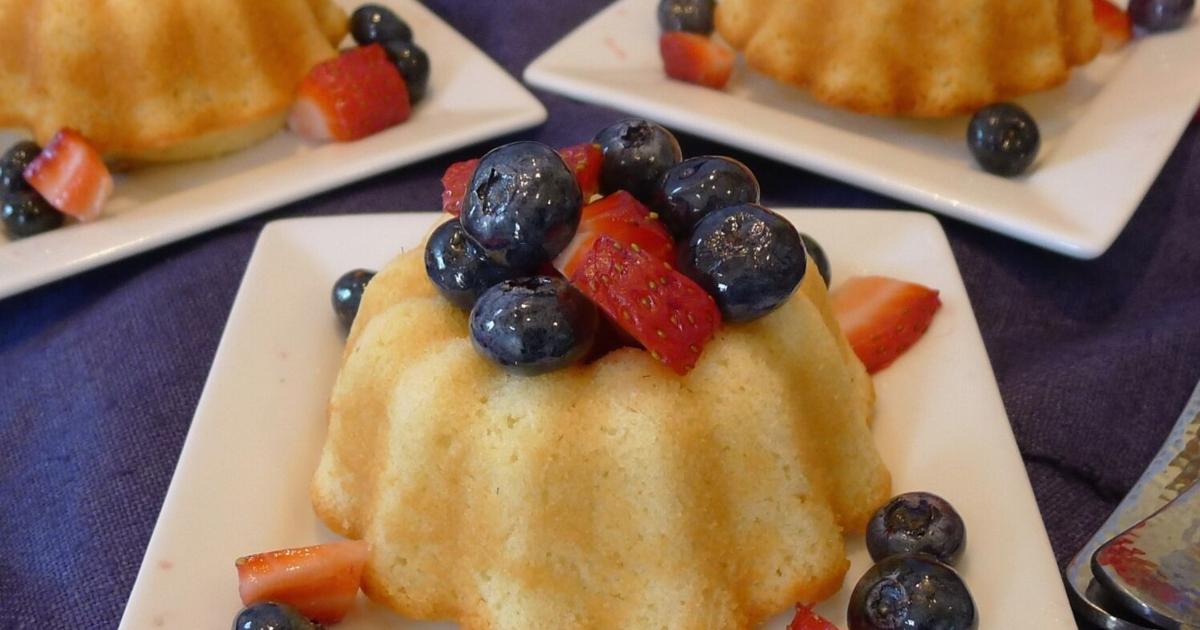 Editor's note: High altitude means cookies spill, cakes fall, and few baked goods look like they do at sea level. This monthly column features tested recipes and tips that make baking at high altitude a success.
Have you tried making your favorite cake recipe at sea level in the high country of New Mexico? If it worked, you're in luck. The cake most of us end up with has a sunken center and/or dry edges and a dense, gummy middle. The good news? You're not to blame – reduced air pressure caused the problems. Atmospheric pressure drops about 0.22 pounds per square inch for every 1,000 feet of elevation gain, so if your oven is at 7,000 feet, there's a lot less weight pressing down on top of the dough while a cake is baking. So it rises too high and too fast, then doesn't have enough structure to maintain that height and collapses. It's also much less weight pressing hot air from the oven down the sides of the pan, making it difficult to bake a cake. center to cook completely without the edges overcooking.
What can we do about it? Unfortunately, there is no magic formula; experimentation is always necessary. But, in general, increase the structure of a cake and keep it from falling by adding an additional 1-2 tablespoons per cup of flour called for in the recipe, and reducing the amount of yeast (baking powder and baking soda ) about ¼ to ½ of what is suggested. To improve the texture of the cake and ensure even baking, choose a recipe that can be cooked in a pan with a metal tube in the center, such as a Bundt pan. The tube heats and cooks the middle of the dough. It makes a big difference. Bundt pans come in a variety of sizes and capacities. My favorite for high altitude use is a six cup Bundt, but all work well.
Chocolate Bundt Cake in a Bowl
Adjusted for altitudes of 7,000 to 9,500 feet; prepare in 6-cup nonstick Bundt pan; double recipe for 10-12 cup Bundt pan.
This beauty is at its best one to two days after cooking, so prep it before serving if you can. To increase its richness and chocolate taste, coat it with chocolate icing, a crown of whipped cream and raspberries. For a lighter version, serve it with raspberry sauce and some fresh berries. Or, add a sprinkle of icing sugar, a scoop of coffee or vanilla ice cream, and chocolate or caramel sauce.
¾ cup superfine granulated sugar, preferably Baker's
1 cup plus 2 tablespoons all-purpose bleached flour, spoon and level
¼ cup plus 2 tablespoons natural unsweetened cocoa powder
½ cup plus 2 teaspoons strong brewed coffee, room temperature
¼ cup plus 2 tablespoons canola oil
1 teaspoon vanilla paste or extract
Preparation: Preheat the oven to 325 degrees, with a rack in the middle position. Generously grease your pan (even if it's nonstick) with cooking spray that contains flour. Do not grease with butter, otherwise the cake may stick.
Prepare the batter: Add all the dry ingredients (from sugar to salt) to a mixing bowl and, on the lowest speed of your mixer, stir until fully blended. Add egg, coffee, buttermilk, oil and vanilla and beat on medium-high speed for 2 minutes. Stir a few times with a silicone spatula, working all the way to the bottom of the bowl, to make sure it's smooth and well combined. If necessary, beat another 30 seconds.
Bake the cake: Pour the batter into the prepared pan, filling it two-thirds full to the top, and tap it several times on a counter to remove any air bubbles. Place the pan directly on the oven rack and bake until a toothpick inserted in the center comes out clean and the cake begins to pull away from the sides of the pan, 35 to 40 minutes. Like many Bundt cakes, this one may rise higher in the middle while baking, creating a ridge; no worries, it won't be visible when the cake is knocked over.
Cool the cake pan on a wire rack for 10-12 minutes, remove from the wire rack and grease the wire rack with cooking spray (so the cake doesn't stick to it), invert the pan on the greased wire rack, let slide cake and cool completely. At this point, the cake can be covered tightly and stored in the fridge for two days or frozen for a month. Serve at room temperature.
This recipe is a variation of the one published by Taste of home.
Lemon Berry Bundtlette Cakes
Makes: 5 individual cakes;
Adjusted for altitudes of 7,000 to 9,500 feet; prepare in a non-stick shiny metal bundtlette pan with 1 cup capacity openings
With a pleasant lemon flavor, a moist, slightly dense crumb and a filling of sweet fresh berries, these baby cakes are a delicious warm weather dessert. Why use superfine sugar? It dissolves faster and more thoroughly, resulting in a more tender and moist cake.
1 ¼ cups plus 2 tablespoons all-purpose bleached flour, spoon and level
¾ cup superfine granulated sugar, preferably Baker's
¼ tsp plus 1/8 tsp baking powder
1 tablespoon finely grated lemon zest
1/3 cup whole milk or light cream, room temperature
6 tablespoons unsalted butter, melted
3 tablespoons fresh lemon juice
2 large eggs, room temperature
1½ cups berries of your choice
2-3 teaspoons superfine sugar
Preparation: Preheat the oven to 350 degrees with a rack in the middle position (325 degrees if your pan is dark metal). Generously grease your Bundtlette pan with cooking spray containing flour.
Make the dough: Add the flour, sugar, baking powder, salt and lemon zest to a mixing bowl and, using an electric mixer on its lowest speed or a whisk, mix well. Add the milk (or cream), melted butter, canola oil, lemon juice and eggs and, on low speed, beat until a dough forms. Scrape sides and bottom of bowl as needed. Increase mixer speed to medium and beat for 4 minutes.
Bake Cakes: Pour batter into prepared pan, filling each opening no more than two-thirds of the way to the top. Bake until the tops of the cakes spring back, the sides begin to pull away from the pan, and a toothpick inserted near the center of one of the cakes comes out clean, about 16 to 22 minutes (the time cooking time may take longer if you are cooking at 325 degrees).
Cool the cakes: remove the pan to a cooling rack. If the top (which will become the bottom of the cakes when inverted) isn't flat, gently press down on it while hot. Leave to cool for 20 minutes, then turn the pan upside down, tap it gently on the rack until the cakes fall and let them cool completely. Cakes can be wrapped tightly and frozen at this point. Thaw before continuing with the recipe.
Add Berries: Up to 3 hours and at least 15 minutes before serving, combine berries and two teaspoons of sugar in a small bowl and toss to combine. Give them a taste and add more sugar if desired. Refrigerate the mixture (if made early) or let it sit, so that the sugar dissolves and the berries produce juice. Just before serving, pile a little on each cake and sprinkle the rest around the plated cakes.