E-MERGING: Otherworldly Cakes Meet Chaos Glam Nails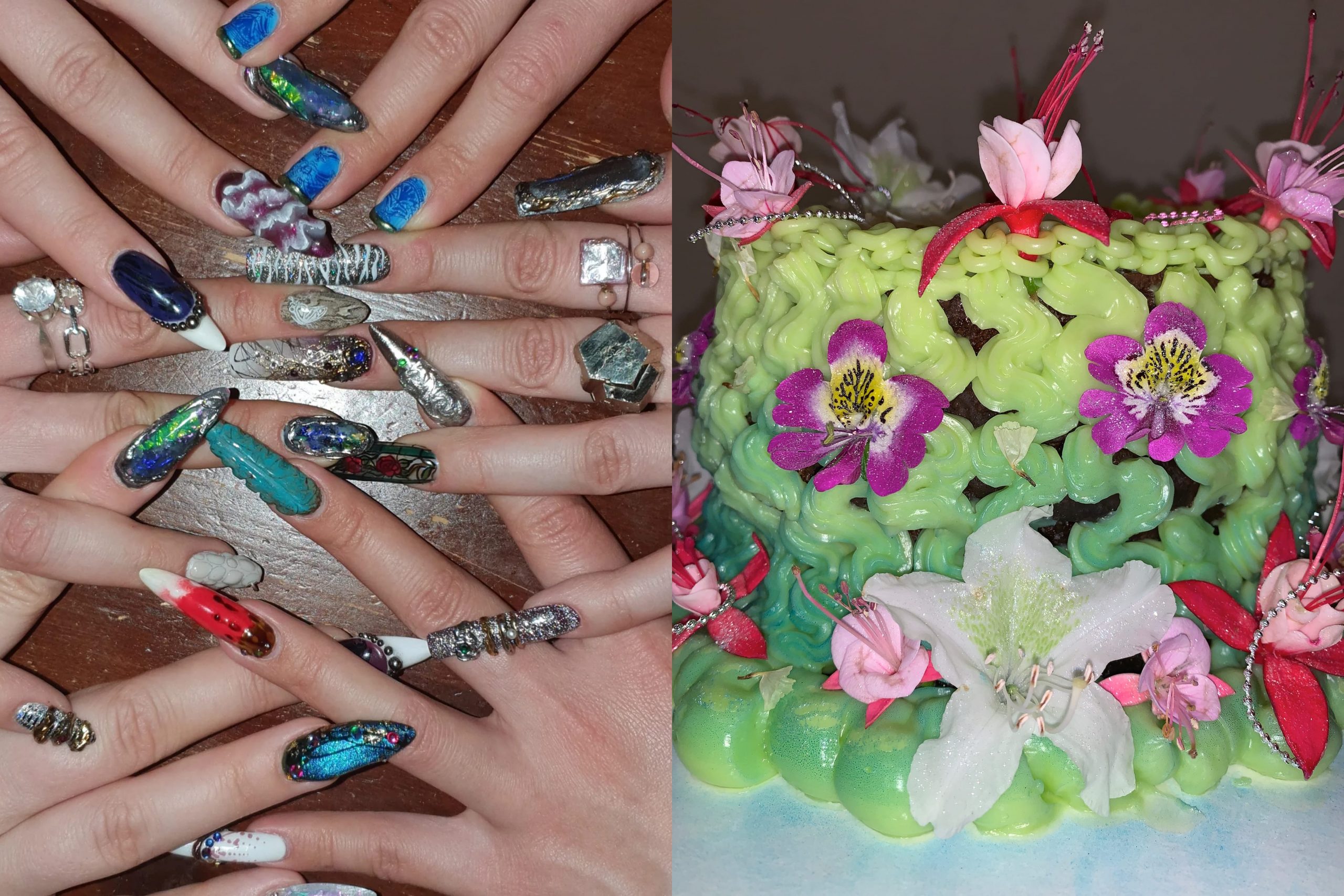 Let's start with some butter. What do you like about each other's works? Do you see any similarities?
Camilla: What I really love about Lila's cakes is their depth. The longer you look, the more details you will discover. She mixes all these different textures and colors and goes beyond the surface, which I find really inspiring. I also like to play with textures and 3D elements when designing nails, and I use lots of chrome and metallic colors to create something that looks layered. I feel that both of our works are very complex and involve a degree of organized chaos.
Lila: I see our two works as temporary jewels. For me, cakes make a table more beautiful or more precious. The possibility of eating them makes it more exciting, but you don't have to.
C: Jewelry is a very personal thing, and I think something you eat is very personal, and something you wear on your hands is too. Everything is very much related to your body.
What are the most unusual or unexpected places that inspire you?
L: I browse the internet and look at silicone molds for hen parties or baby showers. Even the packaging of the cake has something very inspiring about it. I'm obsessed with these clear boxes and printed ribbons. Everything I see is very toned down, sometimes I feel like people are still afraid to go wild and go cheesy with the decoration.
C: Actually, I draw a lot of inspiration from my own mistakes. When I was studying fashion design, I was told to reject ideas I didn't like, but now I try to do the opposite. Whenever something doesn't work, I just add layers to the nail. It also builds your confidence as you learn to trust yourself.
L: I freak out when things don't go my way. It's always trial and error when working with a material that's not always controllable. I love taking pictures of the middle steps because they often give me more pleasure than the cake itself.